You won't believe it but the beautiful Angelina Jolie is one of the top celebrities with tattoos all over her body. Het tattoos are attractively designed that blend nicely with her pixie appearance. She has a quotation on her left forearm that says "a prayer for the wild at heart, kept in cages."
She has also an Arabic tattoo on her right forearm which means "strength of will." Under the neck, she has "know your rights" and at the lower back, you can spot the amazing drawings of a wonderful Asian Tiger and a fierce Dragon.
On her palm, there is the letter M to honor Marcheline Bertrand, her late mother. Jolie has undergone a series of tattoo removals replaced by other names and images. A tattoo which symbolized her love for her ex-husband, Billy Bob Thornton, has been replaced by symbols of her 4 children, Maddox, Zahara, Pax and Shilo.
This was designed thru a longitude and latitude coordinates. On her left shoulder, the former tattoo of the Japanese symbol for death on her left shoulder was replaced by a Buddhist Sanskrit prayer dedicated to her son Maddox. This makes Angelina Jolie as one of the world's most tattooed celebrities.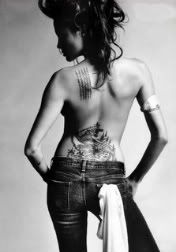 Angelina Jolie's Trendy Tattoos